Zoom is India's leading entertainment destination. It promises engaging, interactive, and entertaining content through a widespread offering including music, Bollywood news, trends, lifestyle, and fashion. Zoom is the one-stop shop of every young entertainment viewer. You can watch Zoom FREE now on DistroTV!
Click to Watch Zoom Now FREE on DistroTV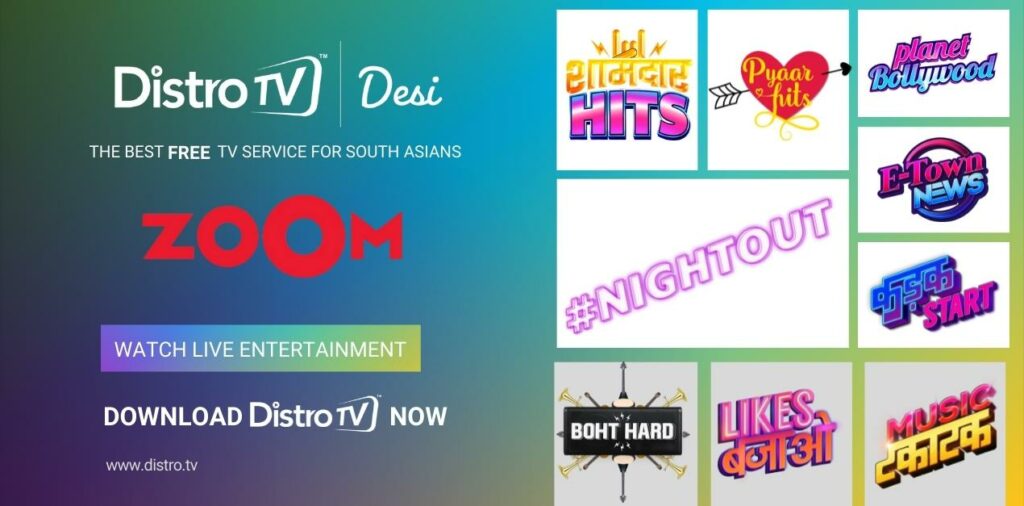 Music Shows:
Music Takatak 

-Newest, Freshest, and trending songs make to this playlist every morning at 8 am – Everyday

Likes Bajao – 

Thematic Playlists. The mood of the day, Mood of the season are captured in this playlist. Around 15 songs of the picked theme for the day. From Lazy Sundays to Heart 2 Hearts and many more. The airing time is 10 am every day

Pyaar Hits 

– Best of Romance. The 2000s to the newest songs. Both mellow and upbeat love songs get played in this show which airs at 11 am every day

My Dil goes Zoom 

– A show for an easy-going mood with a perfect blend of a hand-picked collection of mellow/mid/high tempo, Older – Newer songs. This is an easy-going show airing at 2 pm every day

Shaamdar Hits- 

Top Hits and Trending songs make to this evening playlist and air at 5 pm every day

Beetey Lamhey 

-Songs that transport you into complete nostalgia. Songs from the early '90s and 2000s were played during this time band. It airs at 10 pm every day

Fab 10 – 

10

 

back-to-back handpicked thematic music playlists for the day airing at 1 pm every day

Boht Hard – 

An upbeat song playlist airing every day at 7 pm

Kadak Start

 – Newest and freshest songs to set the mood for the day, airs at 6 am every day

Night Out 

– A show with upbeat music to keep you grooving to the latest hits, airs at 12 am every day
Non-Music Shows
Planet Bollywood –

Bollywood reviews, hush-hush romances, exciting facts on the lives of favourite celebs and much more are brought to the audience by prominent anchors in this show. It airs at 11 pm every Monday to Friday

Etown News – 

Style statements, Spicy gossip, fashion trends, Celeb interactions, their secluded secrets, their whereabouts-There's only one town that has it all and that is E-town. It airs at 11:30 pm every Monday to Friday

Enow – 

Exclusive interviews of K-Pop, Bollywood & Global Celebrities with Sakshma Srivastav every Saturday and Sunday
DistroTV Desi is the best FREE TV service with 35+ channels for Indians and South Asians available to watch on the web, mobile, smart TVs and all streaming devices for FREE.
Click to Read Our Blog: DistroTV Celebrates AAPI Heritage Month