Devi is revered in nine different Nava Durga forms. Each day of Navratri has a special meaning connected to a different manifestation of the Divine Mother & 9 different colors representing it. Also enjoy 9 different genres of shows from News – Entertainment – Religious Shows- Bollywood to Music for FREE only on DistroTV Desi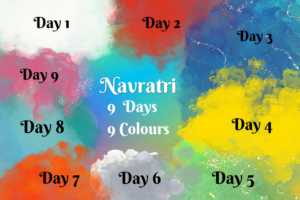 DAY 1 – WHITE COLOUR
Devi Shailaputri is worshipped on the first day. Devi as the princess of Himalaya Raja. We pray to Devi Shailaputri on this first day of Navratri so that we too may reach the highest level of consciousness.
DAY 2 – RED COLOUR
Devi Brahmacharini is praised on the second day. Devi Parvati assumed the form of Devi Brahmacharini after engaging in extreme penance in order to mate with Lord Shiva. It's a holy day to contemplate our inner divinity.
DAY 3 – BLUE
Devi Chandraghata is worshiped on the third day. When Devi Parvati wed Lord Shiva, she took on the unique shape known as Chandraghata. Chandra is a lunar reference.This day represents turning away from all mind whims and concentrating solely on Mother Divine.
DAY 4 – YELLOW
The adoration of Mother Divine is performed on the fourth day as Devi Kushmanda. Devi's created the entire universe. She bestows Her heavenly force upon us on this day.
DAY 5 – GREEN
Mother of Skanda is what Skandamata implies. Worshiping of Devi on this days results in blessing of knowledge, power, money, prosperity, and emancipation.
DAY 6 – GREY
Devi takes on the form of Katyayani on the sixth day. It is a shape that Mother Divine took in order to destroy the evil forces at work in the universe. On the sixth day, Devi Katyayani is called to vanquish all of our inner enemies that stand in the way of spiritual advancement.
DAY 7- ORANGE
On the seventh day, Devi Kalaratri is invoked. There are two extremes in Mother Nature. One is heartbreaking and terrifying. The other is lovely and peaceful.
DAY 8 – PEACOCK GREEN
Devi Mahagauri is everything positive, energising, and liberating in life. She is the force that both drives and liberates us in life. On the eighth day we adore her.
DAY 9 – PINK
Devi Siddhidatri is worshipped on the ninth day. She leads us beyond of the rational mind's constant thinking to investigate the space
and timeless reality.
So, these are the significance of 9 days & 9 colours of Navratri. For more Knowledge you can Switch to Swaarshree, GarvPunjab and also groove to the beats of garba on zoom, mastii and all the desi entertainment only on DistroTVDesi